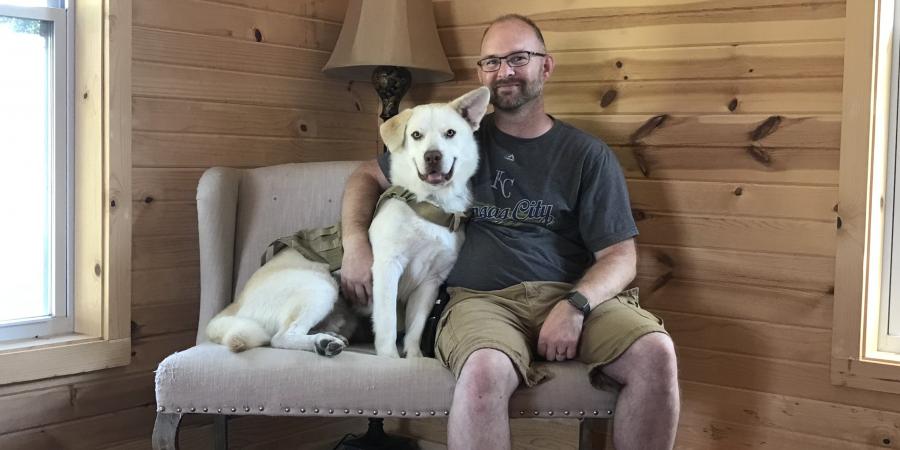 Tim, United States Army
Paired with: Nova, adopted from Liberty Animal Shelter
Served in: Iraq, Romania, Bulgaria and Kuwait
Tim knows he has his six covered thanks to his new service dog, Nova. Tim, a nearly 20-year member of the Army, is looking forward to being involved with his family more with the help of Nova. 
"Nova is my battle buddy," says tim. "He will brighten my mood and help me throughout the day."
Tim, a Staff Sergeant, deployed to Iraq as a tank gunner, followed by tank commander. He also deployed to Romania, Bulgaria, and Kuwait. Currently serving as a fire chief in the Army Reserves, he looks forward to his retirement in 1.5 years from the military.  
"My 'brother' Fletcher saved my life a couple of times in Iraq," says Tim. "That meant a lot to me, and I named my youngest son after him."
Though it may seem he has it all together, Tim shared that PTSD and TBI is not something that is easily noticeable or controlled.
"Just because you don't see it, doesn't mean that we are not fighting something," says Tim. "It's an emotional roller-coaster that affects more than just me. It affects my family as well. If I'm having a rough day, they are too."
Now a 12-year employee of the Social Security office, Tim is looking forward to moving up in his career along with going on family outings. Nova, a Shepherd/Husky Mix from the Liberty Animal Shelter, helps Tim focus on his family and not the possibilities and what-ifs.
"Nova will help me bring an old part of myself back," says Tim.
Tim enjoys visiting his family in Creston, Iowa, where he grew up. His children are actively involved in sports where he intends to take on a more active role with Nova's help.