---
Warriors' Best Friend Key Staff
---
Joe Jeffers - Executive Director
Founder of Warriors' Best Friend Foundation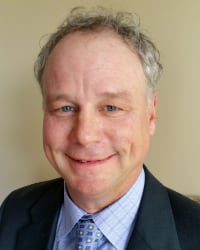 Joe is a natural entrepreneur. He attended Baylor University studying Entrepreneurship. He wasted no time and started his first company at age 23. Since then, Joe founded and operated six companies, all in separate industries.
He founded and has directed the innovative and highly compassionate work of the nonprofit, Warriors' Best Friend in 2013. Joe combined his two great loves of saving rescue animals and his deep reverence for the men and women who serve our country.
Joe was born on an Army base and grew up in NW Missouri in an Air Force military family. All his life, Joe was instilled with great respect for the sacrifice military service members and their families endure. Since the attacks on 9/11 and the ensuing wars, PTSD and Traumatic Brain Injury (TBI) has increased in the United States military at alarming rates. These hidden scars are damaging to our wounded warriors, as well as their families, friends, and colleagues.
Having volunteered at animal shelters for over 25 years, Joe profoundly understands the animal-human bond. Being able to assist military men and women plagued with PTSD, TBI and other injuries, while saving the lives of homeless dogs was a natural fit. Warriors' Best Friend was born.
Joe and Warriors' Best Friend demonstrate that rescued canines are just as qualified, if not more supportive, than dogs that are specifically bred to be Therapy Dogs. WBF not only reduces the incredibly long wait time to be assigned a military dog but is also saving two lives at once by rescuing, training and pairing homeless dogs with veterans and soldiers afflicted with PTSD and TBI.
Under Joe's leadership, Warriors' Best Friend continues to grow and professionalize. Warriors' Best Friend is located on Joe's family's 65-acre property. The beautiful treed farm with gently rolling hills has been owned by his ancestors since prior to the civil war.
In 2017, WBF developed a professional cross-country course on the property of Warriors' Best Friend with the help of experts from The University of Kansas. The course provides event revenues and creates partnership opportunities with other nonprofit and for-profit organizations. The annual WBF Wildflower series of competitive runs and family-friendly walks through the course provides income and visibility to the mission of Warriors' Best Friend.
What little spare time Joe has, is spent maintaining the property, something Joe has enjoyed since he was a young boy alongside his great grandparents. He also serves on the Board of Directors of the Liberty Chamber of Commerce. Joe's wife and 3 adult daughters have a love of rescue animals. At home, Joe is the proud papa of 3 cats.
Bella Jeffers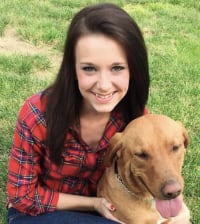 In 2012, Bella fulfilled her greatest dream rescuing dogs when she helped establish Warriors' Best Friend Foundation and joined their team as Lead Canine Trainer. After several years of experience volunteering at animal shelters and pet adoptions, Bella completed an apprenticeship in Jacksonville, Florida with an Assistance Dogs International certified service dog training organization.
Post Bella's apprenticeship, she spent her first 6 years dedicating her time to rescuing and training service dogs that were placed with veterans diagnosed with Post Traumatic Stress and Traumatic Brain Injury. Bella also played a vital role in the pairing process of the dog and veteran. Beginning in 2018, Bella began her journey of training facility dogs for our new programs Operation Schoolhouse and Operation Homestead.
Prior to joining the Warriors' Best Friend family, Bella worked alongside several shelters including Parkville Animal Shelter and Saline Animal League volunteering her time helping with everyday kennel tasks as well as facilitating adoptions at the Saturday PetSmart pet adoption events.
Bella is a proud fur mama to a 10-year-old Pointer/mix, Sal.
Warriors' Best Friend Board of Directors
---
Roger Mose – Board of Directors: Chairman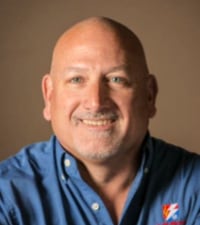 Roger has lived in Liberty, MO, all his life and has seen it change and grow. He worked in the family business, C.M. Mose & Son, since he was very young and became President/Owner several years ago. Servicing the Kansas City Metro area performing electrical, heating & cooling work and installing backup generators, he grew the company to be the largest Generator Dealer in the Midwest. He holds a Master's License in Electrical, Mechanical and Plumbing.
Roger attributes his leadership skills to the years spent in the Boys Scouts where he is still Chairman of the Board for the Troop's Alumni & Friends Association.
Roger served on the board for Immaculata Manor, which is now Life Unlimited. He is a past Board Chairman for the Liberty Area Chamber of Commerce.
Roger and his wife Darla have been married for 32 years. Their son and daughter-in-law have two rescue dogs. Roger and Darla's daughter works with animals every day with her job. She rescued a dog and a cat. A love of helping homeless pets runs in the family.
Opportunity arose at the end of 2018 when Roger and Darla sold their business. They enjoy camping and traveling, as well as spending time with family and their three grand-dogs. Roger is a Scuba instructor and the entire family enjoys diving when they get a chance.
---
Bob Wray - Board of Directors: Secretary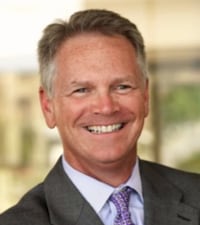 Bob serves as Managing Director of The Capital Corporation, an investment banking firm that focuses on community banks. Bob started the firm over 20 years ago after practicing law at a large regional law firm. He actively assists clients in mergers, acquisitions, divestitures and strategic planning. He sold his business a few years ago to Country Club Bank and continues to manage the division for Country Club Bank. He holds a law license and Series 24 and 79 securities licenses. Bob has served on several community bank and bank holding company Boards of Directors and owns interests in banks and several small businesses. Bob and his wife, Brenda, just acquired 2 day care/preschools where Brenda will put her business and teaching degrees to use.
After rescuing a dog and two cats when their children were growing up, they switched to fostering dogs from a local shelter. After fostering a mother and her seven puppies they foster failed last year when they adopted the mother after all her puppies were successfully adopted. Lola never leaves their side and she sleeps between them every night.
Bob and Brenda have two grown children, a son-in-law and a 1-year-old granddaughter. Their children picked up the family rescue trait. Each one adopted dogs from local shelters. Family gatherings are entertaining when everyone and their rescue pups get together. When not working, spending time with family or walking Lola, Bob and Brenda enjoy traveling and the occasional round of golf.
---
Andrew Hinrichs - Board of Directors: Treasurer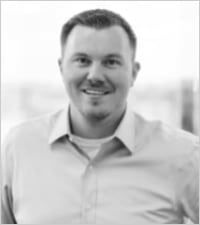 Andrew "Drew" Hinrichs is a 2006 accounting graduate of the University of Missouri at Kansas City. As a CPA and son of a dentist, Drew is founder and CEO of Hinrichs + Pesavento, an accounting firm that specializes in supporting dental practices, providing accounting, tax, consulting and financial planning to dentists and dental practices throughout the country. Hinrichs + Pesavento was recognized in 2017 by Inc. Magazine as one of the 1,000 fastest growing companies and as a top-ten company in the Kansas City metropolitan area.
Drew is impressed by the work of Warrior's Best Friend because he witnessed the bond Wounded Warriors make with the service dogs trained there. He sees the renewed sense of purpose that many soldiers experience when they are paired with a companion dog and subsequently trained to work with that dog.
"I have never gone through the traumas these Warriors have," Drew says, "but I am a dog owner, and I know the benefits their companionship brings. When these veterans are accepted into the program and paired with a Service Dog, it gives them both a new mission."
The comfort, joy, and healing received by these men and women who have given so much for our country makes the support Drew provides well worth the effort. Drew lives in the Kansas City suburb of Raymore with his wife Ashley, and four children, Aiden, Audrey, August, and Alex. They make their home with their pets; Bella, a loving American Pit Bull Terrier who would rather snuggle than play; and Violet, an energetic Charcoal Labrador who will welcome you with a hug.
---
Michael L. Burke - Board of Directors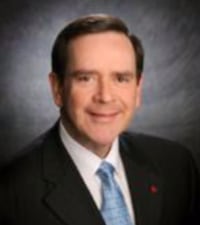 Mike is a life-long Kansas City resident and attended Rockhurst High School. He received his undergraduate degree in history from Georgetown University in 1970 and his Juris Doctor from Georgetown University Law Center where he was Research Editor for Law and Policy in International Business. He is the former President and CEO of King Hershey, PC and of his own firm as director and CEO of Michael Burke, LLC law firm in Kansas City.
Mike is known for serving in a broad range of civic endeavors including: Chair of the Public Improvements Advisory Committee, First District City Councilman, and Chair of KC Riverfest. He served as Co-Chair of Mayor Sly James' Bistate Innovation Team charged with recommending strategies for Kansas City tech and digital initiatives. He helped develop the Launch KC program for the Economic Development Corporation, a program designed to attract start up technology firms to the area.
Mike served as co-chair of the Mayor's Task Force for the Arts working on the City's strategy for growing the arts in Kansas City. He is largely responsible for the resurgence of the broad range of the arts in Kansas City; reinstituting arts programs in K-12 Public Schools, attracting national talent to return to their roots in Kansas City and championing the growth of the Downtown Arts District.
For the past seven years Mike has been a partner in the development of an 800 room Convention Center Hotel to be located at 16th and Wyandotte, adjacent to the Kansas City Convention Center and across the street from the Kauffman Center for Performing Arts.
Mike and his wife love their hometown of Kansas City and are season ticket holders of Starlight Theater. Warriors' Best Friend is honored to have Mike as a Director.
---
Shannon Buster - Board of Directors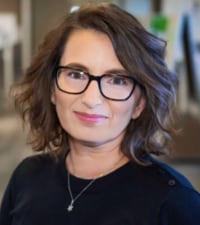 Shannon Buster is a Senior Engineer with Olsson. She has designed and managed a wide range of land development projects over the last 20 years. Shannon has a passion for improving her community through engineering and has designed schools, neighborhoods, and businesses throughout the Kansas City area. She particularly enjoys mentoring young engineers and participating in STEM programs at local schools, helping students explore the field of engineering.
As a volunteer with Pets for Life for the last 10 years, Shannon has seen firsthand the power of animal assisted therapy and is thrilled to serve Warrior's Best Friend as a Director. Shannon and her border collie, Wyatt, have visited nursing home patients, hospice patients, and young people with developmental disabilities, and have also led programs teaching children good dog interaction skills to reduce the incidence of dog bites.
Surely to the great disappointment of her parents, Shannon's first word was "puppy" which foretold a lifetime love of dogs. She has a weakness for border collies and is a proud dog parent, along with her husband Kirk, to Wyatt, Ozzie, and Annie, all adopted from local rescues. Shannon loves to support local dog-friendly businesses and thinks the dog park bar is the best invention since computer-aided drafting. Her perfect day is a morning run with the dogs, an afternoon playtime at the park with the dogs, and dinner on the patio with the dogs.
---
Tammy deLisser - Board of Directors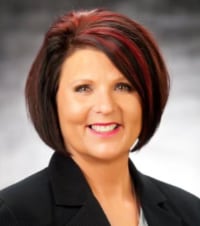 Tammy deLisser is the Owner and Certified Home Stager and Re- Designer of GCH Design Solutions. She is also a licensed Realtor in Missouri and Kansas. Prior to becoming an entrepreneur, Tammy spent more than 25 years helping many nonprofits succeed with their management and fundraising efforts. She most recently was a Chief Development Officer and previously was the CEO/President of a local animal welfare organization. Passion powers Tammy's drive and ambition to succeed.
"I find that passion behind anything usually leads to success," says Tammy.
Working most of her career in the nonprofit industry, she raised millions of dollars for animal welfare, arts, youth development, education, research and social service organizations. Tammy pursued one of her true passions in home decorating. She started her own business and subsequently entered the world of real estate by obtaining her Real Estate licenses.
Tammy lives in Liberty, MO, with her husband Doug. Together they have 5 children and 1 grandchild. She loves spending time with family and concentrating on the things in life that really matter! Tammy's personal mission is to live a purposeful life and show it in her actions daily. She describes herself as having a servant's heart by giving back to her community, her family and her friends through acts of kindness, servant-ship and love. Tammy will continue to serve Warriors' Best Friend as the Development Committee Chair.
---
Lori Rohlfing, DVM - Board of Directors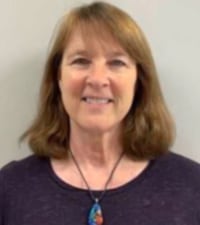 Lori and her husband, Alan Rohlfing, DVM, co-founded the Veterinary Center of Liberty in 1987. Their companion animal practice has grown to a five-veterinarian practice serving the Liberty area and keeps all staff extremely busy providing care to the pets in the community.
Outside of her clinic duties, Lori spends time as a member of the Liberty Animal Shelter Task Force. The group is working hard to design the perfect animal shelter for the city of Liberty. Her goal is to provide a safe place for adoptable cats and dogs to live they can find their forever home with a new family. Lori works with the Missouri Department of Conservation to rehabilitate Missouri native wildlife that have been separated from their families.
She frequently has cages of squirrels, opossums and raccoons that need to be fed. She spends her free days teaching survival skills to these youngsters out in the woods surrounding her home.
When Lori has a chance to truly get away, she travels with World Vets, a nonprofit veterinary organization whose mission is to improve the health and wellbeing of animals by providing veterinary aid, training and disaster relief. With veterinary groups, Lori has had a chance to travel through Mexico, throughout Central America, Albania, Ethiopia, Cambodia and India. Not only does she love spaying and neutering street dogs and cats to humanely help control the animal population, but she also enjoys working with local veterinarians in these countries to help improve their surgical skills.
Lori shares her home with Alan, five dogs, two cats and numerous wildlife that check in as they cross the Rohlfing acreage.
---
Dennis Shriver - Board of Directors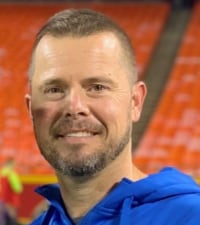 Dennis works in the real estate and construction industry with a focus on developing residential communities and building new homes. He owns Hearthside Homes of Kansas City, HSH Properties, and Freetown Investments. He and his wife Mendy are also active in various local and international organizations.
Dennis has strong family ties to the military, including his personal service. His eldest son is currently a Machine Gunner in the Marine Corps Reserves. That, combined with a love for dogs, makes serving on the Warriors' Best Friend Board a natural fit.
Dennis and Mendy have 5 busy kids and 2 dogs, Sadie and Rosie. Dennis got Sadie, a German Shorthair Pointer as puppy, and their family recently took in Rosie, a German Shepard mix. In his free time, you can find him pretending to work at the farm or relaxing at the lake with the family.