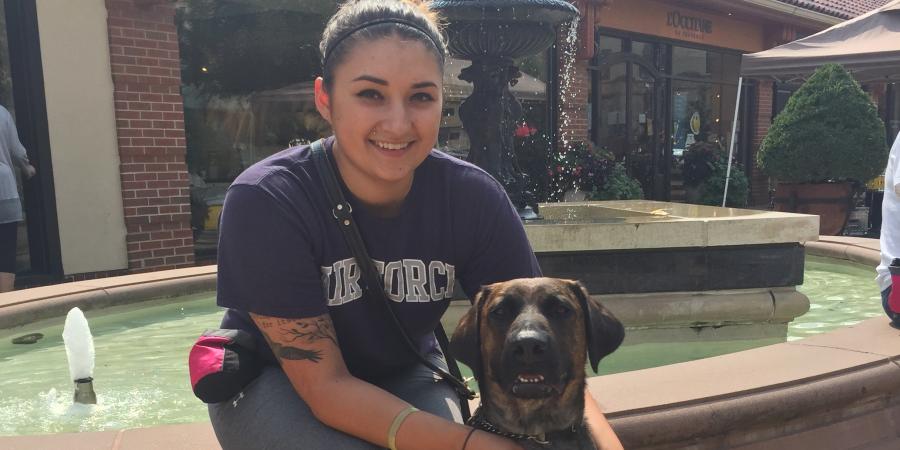 TAYLOR, United States Air Force
Paired with Tigger
Age: 23
Rank: Senior airman
Served In: Qatar
I grew up in Topeka, Kansas and enlisted in the Air Force right out of high school looking for an escape from home—the military seemed like the quickest way out.  I've spent my military career with the 190th Kansas Air National Guard where I refuel systems, repair leaks, perform inspections, change pumps and valves—we do it all. Actually, my job is featured on Mike Rowe's Dirty Jobs. Prior to my diagnosis I was stationed in Qatar where I performed maintenance on the KC-135.
Following an incident in Qatar I was stationed at Forbes Field Air National Guard Base and transferred to maintenance administration.  In Topeka I attended therapy and took several different medications to help me cope with the symptoms of Post Traumatic Stress, but as my fiancé pointed out to me, I wasn't the same person and I needed help.  I became easily irritable, my mind constantly wondered, for days, sometimes weeks, I would deal with intense spells of insomnia and suffer from flashbacks and night terrors.
During a stay in a hospital I had a nurse who had a service dog with her, and she explained to me how the service dog helped and how I could go about getting one. The process seemed overwhelming and improbable—veterans spend years on a wait list before receiving a service dog. At the time I didn't act upon it, but I kept the thought of a service dog in the back of my mind. Recently, I met a veteran who had received a service dog from Warriors' Best Friend, spent time with his service dog, and saw how he had been helped. I knew I had to try.
When I met with WBF for the first time and was introduced to Tigger—those moments were amazing. I didn't want the time to end. With only a few days with Tigger, already I'm beginning to see changes in myself. My first two nights of training I slept the whole night through. With Tigger I'm not constantly watching my back to see who is behind me. Socializing can by extremely uncomfortable, so I look forward to being able to pet and focus on Tigger, who will provide a bit of distraction from the awkwardness I feel. I'll be able to take my daughter, Natalie, to the park. I can just focus on being a mom and not depend on her for an added sense of security and to distract me from persistent flashbacks.
If I could share anything about PTSD and TBI to someone who knows very little about it, or family members of a veteran that is suffering, I would want them to know we are just like everyone else—everyone has their issues—ours is PTSD. Usually we can communicate those triggers to you, whether that's loud noises or certain activities. Don't treat us differently. Don't calculate your actions or conversation. Don't isolate us. 
Tigger's Story:
Tigger is a one year old Shepherd Mix.  He is 80lbs of pure love!  Tigger has such a beautiful and caring personality.  He always wants to be by your side and remind you he is there for you.  He gives a 100% in every training session and constantly seeks for your approval.  Tigger loves making new friends and playing outside with the other dogs.  His buddies are Anna and Nero!