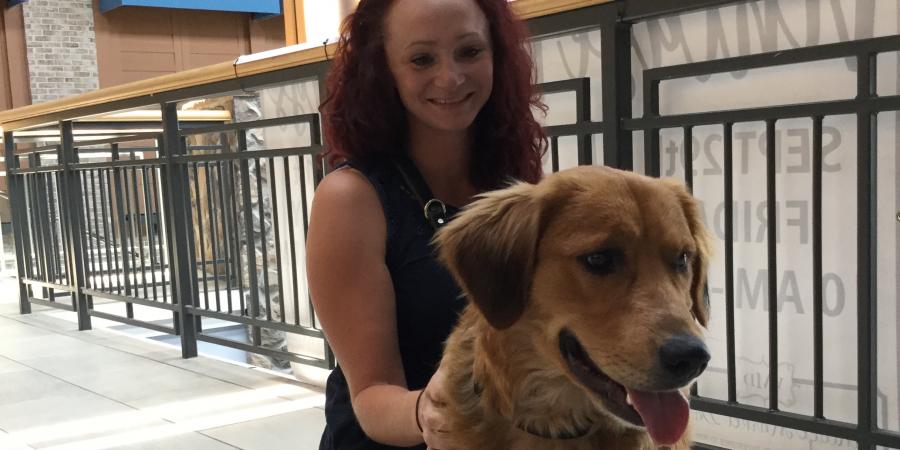 SASHA, United States Army 
Paired with B-Zou, Adopted from Saline Animal League 
Rank: Staff Sergeant 
Served In: Iraq 
I grew up in the very small town of Tylertown, Mississippi. A military lifestyle is something I was familiar with from a very young age as I had many members of my family that served in the military including my uncle and brother. I was 14 when the terrorist attacks of 9/11 occurred, and it was at that time that I knew what I wanted to do with my life. I enlisted in the Army when I was just 17—and actually skipped a year to begin serving my country. 
In all I served 12 years in the Army. My primary job during the course of my career was a paralegal specialist. I also completed the Advanced Marksmanship Instructors Course, and then assisted and trained other soldiers. Then In 2007, I deployed to Iraq. I deployed and was tasked with hospital duties and assisting nurses, medics, and other staff.  
I enjoyed my time in the Army and the close bonds formed among fellow soldiers and would choose the same path all over again. However, my experiences resulted in unique and complicated challenges that I am now faced with. In 2008 I first became aware of symptoms of what I would learn is Post traumatic stress. When I came home I locked myself in the house, and leaving to do something as vital as getting groceries was no longer possible. To do anything, where surroundings are unfamiliar and unpredictable was impossible to attempt. 
Growing up my family raised Rottweilers and we always had at least three or four dogs as any time. I think because of this fact, I've always understood the unique impact and comfort that a dog can provide. I did a lot research and believed that this could be the right way to help me personally cope with PTSD and overcome the new challenges I am now faced with.
Just a couple of days with B-Zou and I already feel a difference. He's wonderful—he's a real cuddler. And he pays so much attention to me. I can't get out of his sight.  With just a few days together he has already picked up on when I feel anxious and when things aren't quite right. He'll nudge me or draw my attention to comfort me or distract me. During handler class I was even able to make a trip on my own to the Apple Store to have my phone looked at, something I would have never have been able to do beforehand. 
Beacause of my PTSD my independence was taken away. I lost touch with all the things that I gave me a lot of joy. With B-Zou I'm excited for us to discover what these things are—together.
Team Updates
B-Zou has been paired with his soldier Sasha. During this interview we learn a little about Sasha and her military background.
Read More >>
During the second part of our interview with Sasha we learn how B-Zou will intergrate with her family. She also explains what she looks forward to most now that she has B-Zou in her life.
Read More >>