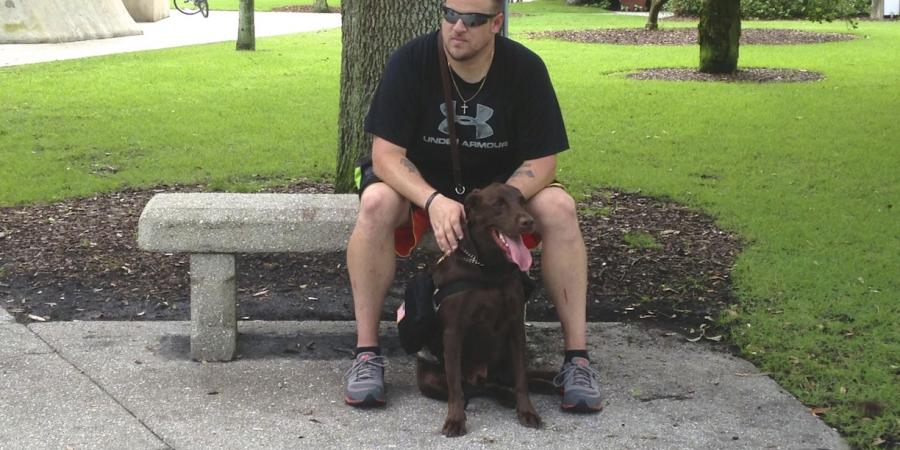 Ryan, Army
July 2013 Class
Age: 33                            Years in Service: 5 Years           Rank: E4
Served in: Iraq
Warrior's Story:
I grew up in Columbus, Ohio as part of a big family that included my parents, along with four brothers and a sister.  We did have pets when I was growing up, but it was sporadic and typically we had cats so dogs were never really a part of my life.
I began my military service in 1999.  I joined the Army as a Specialist and held several positions throughout my career.  I worked as a Combat Engineer and was involved with many missions.  Raids, searches, IED sweeps, rocket and ammunition disposal, prisoner detainment, security checkpoints, riverboat reconnaissance on the Tigris River (The Ice Mission), escorting new currency into Baghdad and much more.  From 2000-2001, I served in Operation Desert Spring.  In 2002, I attended Sapper School at Ft. Leonardwood, MO and went on to serve in Operation Iraqi Freedom from 2003-2004.
While serving in Iraq in 2003, I began to develop several health issues and starting to notice the physical symptoms.  As a result of an IED explosion, my right shoulder rotator cuff was injured, along with my left knee.  In the same year, I was diagnosed with an internal bleeding issue that continued to get worse.  I had one minor surgery and two post-op surgeries to correct the issue, although it is still not 100%.
About PTSD:
PTSD and TBI are simply not easy to live with, for me or my family.  There are so many symptoms, too many to list them all.  Just to name a few that I have suffered from: anxiety, nightmares, light sensitivity, hot flashes, angry outbursts, mood changes, blurred vision, loss of coordination, increased agitation and hyper vigilance.  In the future, I would like to get more involved with my community and help provide awareness in order to help others who are dealing with PTSD and TBIs.
Looking forward to:
I have recently finished school to become an automotive technician and hope to pursue a career one day.  I am currently a stay at home dad while my wife Stephanie works part time.  She has been my primary care taker in my journey and I am grateful for her support.  I am hopeful that my new service dog will give me the confidence to get out more and help me get my life back.
About Moe:
Moe is a 2 1/2 year old male chocolate lab.  Moe came from Florida Lab Rescue.  He was surrendered by his owner because he had too much energy for them.  He came to training and slowly but surely learned to calm down and do his work.  Moe is a fun, happy go lucky dog that's always up for a new challenge.  He is a great match for his warrior and loves not being left behind.