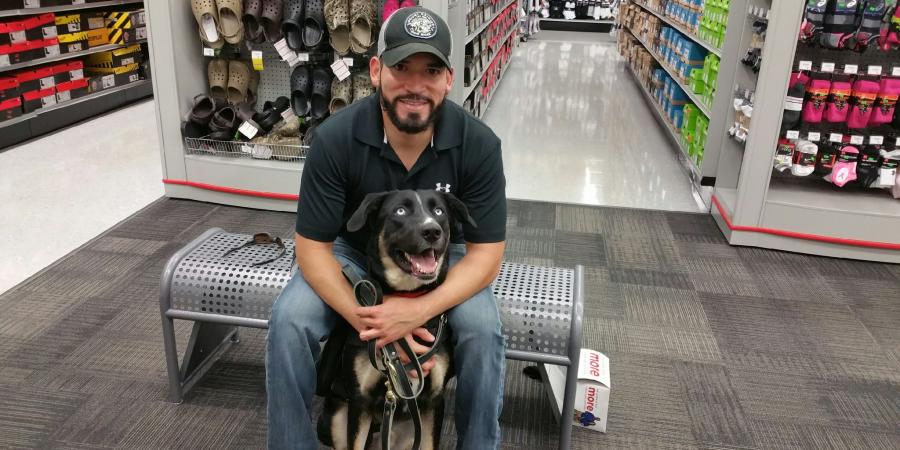 FRANCO, United States Navy
Paired with Depot, Adopted from Great Plains SPCA
Served in the Middle East and West Africa
My family emigrated from Mexico to Riverside, California where I grew up. When I was 22 I enlisted in the United States Navy and served eight years as a Navy Combat Corpsman (Medic). My first command was with the 2nd Marine Division in Camp Lejeune, North Carolina, and the second command was in Rota Spain Naval Hospital where I served as an interpreter between the Spanish and the US military. During my service I was deployed to both the Middle East and West Africa.
My duty was to keep my Marines alive. I kept them alive and they kept me alive in different ways.  I have never felt a stronger bond then with my Marines and I miss them even to this day. I never imagined what going to war would do to me when I can home. The mental and emotional drain is difficult to describe.
Nightmares and hallucinations combined with hyper-vigilance whenever I am in any place outside of my comfort zone makes me feel constantly exhausted, which impacts my strength and endurance. I've also felt the effect of PTSD upon my life in the form of isolation. As a way to cope, I abused alcohol and this along with other symptoms caused a breakdown of important relationships with friends and family. It's extremely difficult to trust anyone now and often I feel very alone.
I have never been around dogs before, and so it never really occurred to me that a service dog would provide a path to overcome some of my limitations and bridge some of my fears. People tried to explain to me the special quality that dogs have, the way they pick-up on our emotions and never judge us. Although I had never experienced this, I proceeded with caution and began looking into the possibility. I began to believe that a service dog might be the one to open me up.
Depot is already teaching me to trust again. It's hard to believe that in such a short time, he has given me the most love and compassion I could imagine. Depot inspires hope when I feel like giving up. I enjoy feeling connected to Depot. I have not felt a connection to anything in many years. Most often I feel numb and detached. With Depot I am starting to "feel" again. Overtime, my hope is that I find forgiveness for things I did when I was deployed and things that were done to me in the military. Perhaps through Depot I can learn that I am worth it, I am lovable, and finally forgive myself.
With Depot I see no limits to things I am capable of. Some of my passions include humanitarian work in developing countries. I am also passionate about assisting other veterans that are struggling with PTSD or what I refer to as "The Great Sadness." With my social work degree I would like to assist other veterans with PTSD or substance abuse by helping  them to make peace with their past and learn to live in the present.