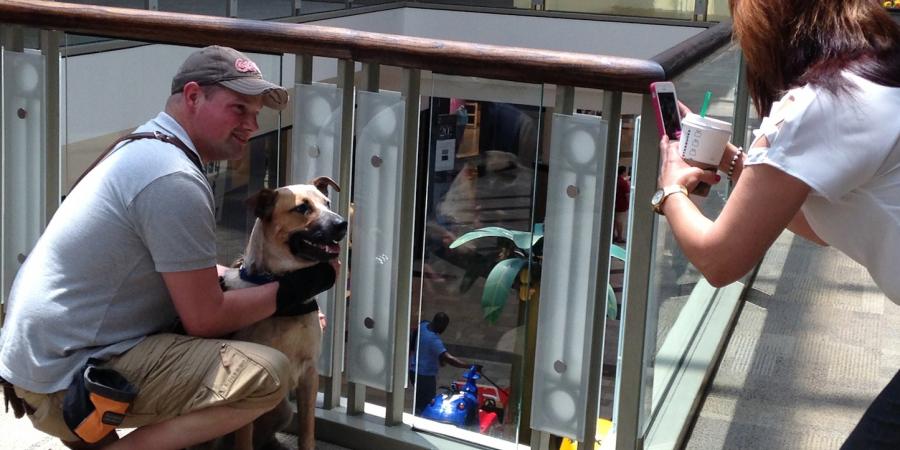 Leroy, USMC
August 2013 Class
Age: 31                                               Years in Service:  10 Years        Rank: E5
Served in: Iraq, Afghanistan, Indonesia
Warrior's Story:
I grew up in Houston, Texas with my mother, grandmother and three sisters.  My oldest sister moved out when I was young, so I helped take care of my two young siblings.  I enjoyed taking care of them and felt they looked up to me as a role model.
After high school, I joined the United States Marine Corps and have spent ten years serving my country, currently hold the rank of Sergeant.  Most of my service was spent on the west coast at TwentyNine Palms and Camp Pendleton.  I completed five deployments to Iraq, Afghanistan, Somalia and many other countries.  Most of my training was as an infantryman, but I also served as a combat lifesaver, martial arts instructor, marksman instructor, helped train foreign armies and completed humanitarian missions.
During my service I was shot in my left bicep which has since led to nerve damage in my hands and prevents me from performing many day-to-day functions.  I also received several concussions in the line of duty that now lend to my PTSD.  All in all, I love being in the military.  It allowed me to travel the world and experience things I would have never been able to otherwise.  The military has influenced both the most challenging and happiest times of my life.
About PTSD:  
This is not the end of the world, you can get through it.  Having the love and support of those around you can help tremendously.  Being alone is a major trigger for my PTSD and having a service dog/battle buddy will help ease the stress that comes with being by myself.  
Looking forward to:  
I would like to continue my education, hopefully finish my Bachelor's degree within the next year or so.  I am looking forward to getting a civilian job and hopefully opening a small business in Texas with my wife one day.  I am most looking forward to reuniting with friends and family members and gaining the confidence to enter new situations.
About Apache:
Apache is a 16 month old male Red Heeler/Cattle Dog mix. He was adopted from Bradford County Animal Control as a young puppy. The family returned him a few months later when their new cattle dog mix shockingly wouldn't stop chasing their cows. Rescued Hearts Animal Shelter rescued Apache for the second time. He earned his place in the program after having 2 dogs react very aggressively towards him and ignoring them both. He is a very sweet and smart dog who has a lot of energy and needs to work. He excelled in training and absolutely adores his new warrior.