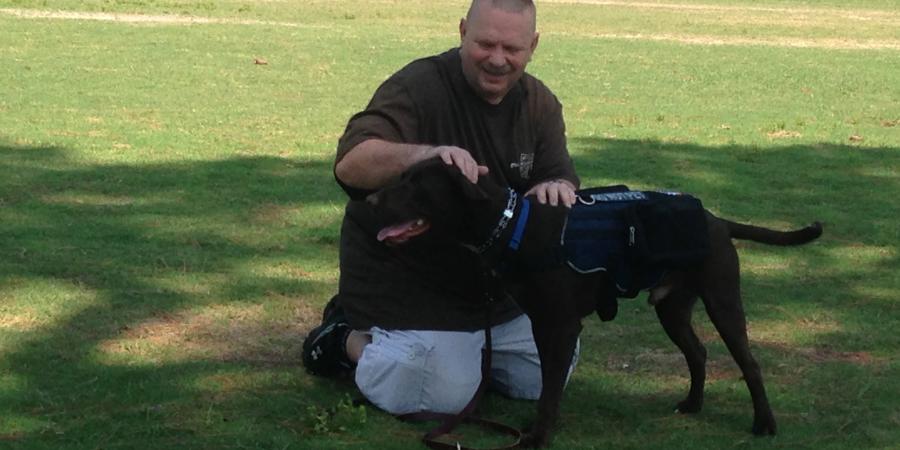 About Larry:
Service Rank: U.S. Navy Reserves, E6
Age: 54
Years of Service: 17
Served in: Iraq and Cuba
Looking forward to:
Like most others, I am looking forward to being more active.  I would like to start walking and exercising, which would be a perfect fit with my service dog.  I also look forward to going out in public more often and not feeling so uncomfortable when I do.
Warriors Story:
I grew up in Chicago as part of a big family with four sisters and one brother.  Sadly, my mother passed away in 2012 and one of my sisters recently passed away from cancer.  
I started my military career in 1989 and spent over seventeen years in the Navy Reserves.  In 1995 I participated in Operation Sea Signal in Cuba.  I was a mechanic for the Seabees and I worked on their equipment for three months.  Beginning in 2006, I was a Lead Petty Officer for the Counter IED (roadside bombs) Group for the Seabees in Fallujah, Iraq where some of the fiercest fighting occurred.  
In my civilian job, I was a Heavy Mobile Equipment Mechanic Leaderman at MCLB Albany.  I was in charge of 20 mechanics and kept vehicles, parts and quality assurance.  It's a hard transition going from a war zone back to a civilian job in a short period of time.
I was eventually diagnosed with PTSD and medically retired from the Navy and later received disability retirement from my civilian job.  My wife has been a wonderful caretaker and drives me to all of my appointments or anywhere I need to go.  She reminds me when to take my medicine and gives my life a little stability.  I have trouble riding in a vehicle when I see trash on the side of the road, discarded tires, bridges, overpasses or other vehicles coming behind me quickly.  It causes panic attacks and flashbacks.  I am hopeful my service dog will give me my independence back.
Like most people who suffer with PTSD, I cannot tolerate being in a crowd for very long.  I am very uncomfortable in waiting rooms and other enclosed places.  I typically sit with my back against a wall so I can see all of the entrances and exits.  I sometimes have to go outside or wait in the hall and ask my wife to come get me when my name is called.  People walking behind me or putting their hand on my back or shoulder causes an instant panic.
I also have problems with depression and anger.  I have had several periods of depression where I slept for more than hours a day.  I have been hospitalized twice for my depression.  I feel like I am a burden on my family because of all they have done for me.  I feel like I should be able to do more for myself and with a service dog, I will be able to.
About PTSD:  
I currently attend PTSD group therapy meetings weekly and see a therapist twice a month.  I've learned there is no shame in asking for help so don't wait to reach out.  Do your research and make sure you find the right organization to fit your needs.
About Camo:
Camo was picked up as a stray by Clay County Animal Control. Their best guess was that he had been on the street his whole life. Camo's journey from animal control to us was purely fate. Our lead trainer had gone out to Clay County Animal Control to evaluate two other dogs for the program. When those dogs didn't pass the test, she went through the other kennels looking for prospects. Camo was curled up in a ball on the floor of his kennel while the other 4 dogs he was with barked and growled at all the chaos. Camo saw the trainer and came up to the fence to lick her hand, tail wagging. Camo passed the evaluation with flying colors, but had one more obstacle he had to overcome - he was sick with kennel cough. Camo came and spent 2 weeks in isolation recovering from his cough. Once he was healthy, he began training. Camo's unbelievably sweet personality combined with his overwhelming desire to be with "his person" made him a joy to train. He is truly an old soul serving a higher purpose with his warrior.