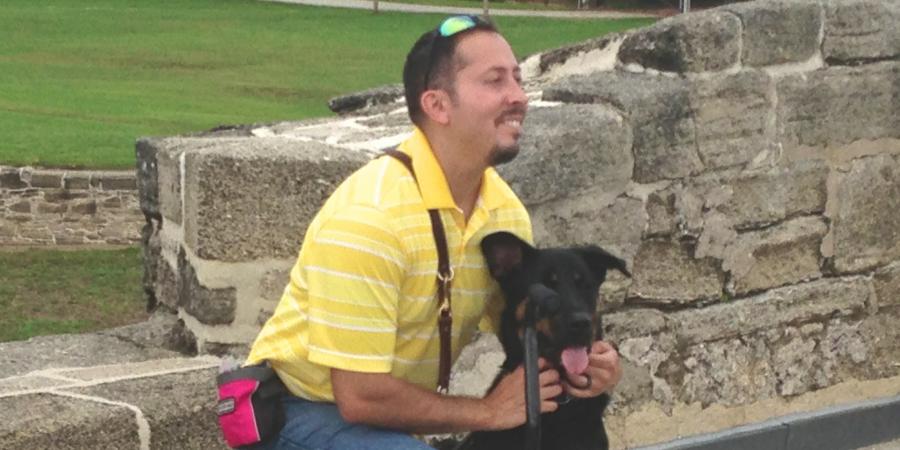 Jaime, U.S. Army
September 2013 Class
Age: 35                                                  Years in Service:  15 Years        Rank: E7
Served in: Afghanistan
Warrior's Story:
I was born and raised in the Bronx, N.Y. as the oldest of four boys.  All four of us joined the military and are proud to serve our country.  My wife Angela and I have been married for thirteen years and we have four children.  We currently have two pets, a dog and a cat, both are rescues.  I have served all over the country as well as overseas in Afghanistan and Korea.  
I started my military career as a rifleman and after I was promoted, three years later I decided to re-classify to Combat Medic.  I wanted to help others and was tired of seeing our injured soldiers being treated poorly and wanted to be a part of giving better care.  While preparing to apply for the Army Physician Assistant School, I received my fourth TBI.  In addition, damage to my lower back, right hip and right foot, along with nerve and disc damage to my neck have been a challenge.  I am hopeful my injuries will not hinder me or my education.  If they do, I will use my experience in hospital administration to complete a degree in Nursing Administration.  
Whether positive or negative—all of my experiences have shaped me into the man I am today.  My friends and family know that I am loyal and caring and will work hard to help them with whatever resources I have.
About PTSD:  
I am not the only person suffering from PTSD or TBI's—my family does too.  They have to deal with my anxiety, forgetfulness and other issues.  Patience goes a long way and I am forever grateful to them.
Looking forward to:  
I am hopeful the new sense of security a service dog will provide will allow me to get back into the community.  I look forward to volunteering with my kid's activities and enjoying simple pleasures like going to the movies and the park.  I plan to retire in Harlingen, Texas and would like to participate in medical missionary trips as well as continue to volunteer in the local jail ministry program within my church.
About Shadow:
Name:  Shadow
Breed:  Beauceron mix
Shadow is a 2 1/2 year old female Beauceron mix. She was picked up by animal control and rescued by Pet Angel Rescue.  Shadow is a sweet and loving dog and is very responsive to her handler. Her caring nature and personality make her a natural for service work.