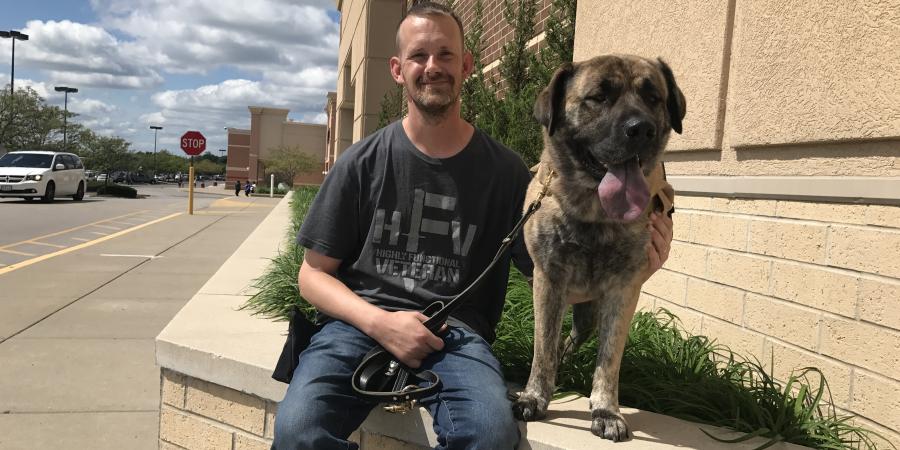 DENNIS, United States Marine Corps 
PAIRED WITH, Fiona adopted from Great Plains SPCA 
SERVED IN: Iraq 
My mom has told me that even when I was as young as three years old I knew what I wanted to do when I grew up.  My whole family served in the Navy and when I was old enough, I enlisted in the United States Marine Corps. In all, I served my country ten years—which turned out to be one of the best experiences of my life and one that I would easily repeat. 
Most of my time with the Marine Corps was spent at Camp Pendleton. Over the course of 10 years I deployed four times—the last time to Iraq. During my time in the Marine Corps my specialty was infantry and I assumed many different roles, including leading a squad. During my deployment to Iraq in 2005 I was wounded by an IED while on nighttime foot patrol, resulting in a Traumatic Brain Injury along with several other injuries. 
I think one of the greatest misconceptions about PTSD is how it manifests itself, or more specifically, the prevailing emotion. When people think about PTSD they associate anger with the word, and while that is certainly part of it, there is a whole spectrum of emotion that is felt by the individual coping with PTSD; Sadness, depression, anxiety, loneliness are all other emotions that are felt—with an intensity that is difficult for someone who doesn't have PTSD to comprehend. 
Along with coping with the physical and psychological injuries that resulted from the explosion, I also feel a great loss being a part from the friends that I served alongside—a bond that was so strongly solidified from the amount of time spent together and the intensity of experiences shared. 
Fiona is that missing piece for me, and helps to fill that void of not having my fellow Marines around. Just a couple of days into training—the bond that formed was incredible. I can't imagine my life without Fiona. A part from the closeness that we share, she has this incredible calming presence that I know is going to have a tremendous impact upon the quality of life and the time that is spent with my family. 
With Fiona I'm looking forward to going out with my wife and two kids just doing simple things like getting ice cream from the ice cream parlor, with the ability to be more in the moment, and worrying less about crowds and other various triggers.