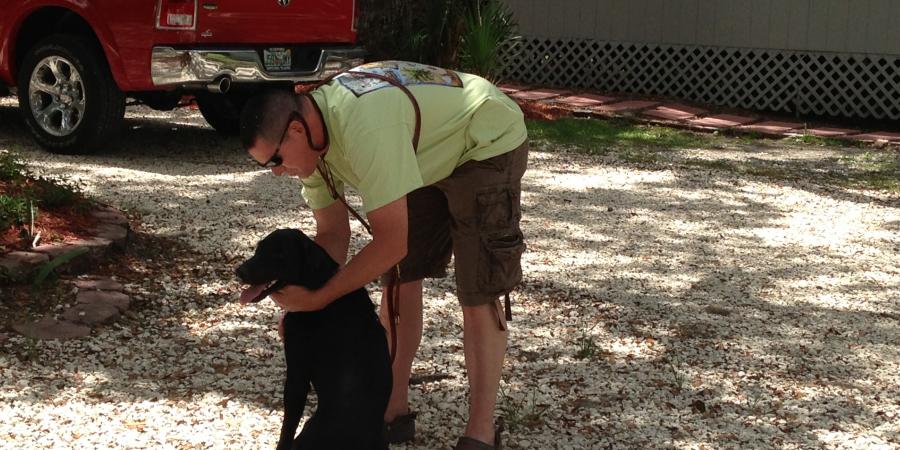 About David:
Service Rank: Army National Guard, E6
Age: 47
Years of Service: 13
Served in: Iraq and Afghanistan
Looking forward to: 
Doing things with my family like fishing, attending my kids' events at school, traveling with my wife and kids and enjoying it.  I also look forward to strengthening my family bonds and regaining my broken or weakened relationships.
Warriors Story:
I grew up in Villa Rica, Georgia with divorced parents.  My brothers and I lived with my dad, while my sister lived with my mother.  I am currently married to my wife Cara and we have a wonderful blended family that includes six children and three grandchildren.
I began my military service in 1982.  During my time, I served in a reconnaissance unit and as a 19 Delta Scout.  I received an Army Commendation Medal with Valor for Operation Breast Thunder, along with my other team members.  This was an eleven hour event with five levels of air support, along with the French and the ANA.  We lost one Marine Captain and one soldier due to a sniper attack.  In the end, forty Taliban members were killed.   It was always my life goal to join the military.  I wanted to serve in a combat zone and train to be an electrician.  I am happy to say that I completed these goals.
In 2005 and 2006, I worked in convoy security in Iraq.  I was stationed at Tallil Airforce Base where I worked security for jet fuel trucks that traveled 326 miles from Tallil to Anaconda.  I received a direct hit with an explosive device and was ambushed.
In 2009, I moved on to Afghanistan and spent the first seven months in Tagab Valley, on the northeast end.  I worked in an Embedded Training Team with the Afghan National Army, Afghan Commandos, French Commandos, Special Forces Team 326, U.S. Marines and French Marines.  My team had 18 men in a combat outpost, our missions were completed with no more than 30 people.  Our missions included:  village patrols, extractions, humanitarian aid and recon missions.
The second half of my tour in Afghanistan was at Torkham, Afghanistan, near the Pakistan border.  I acted as a body guard for Diane Sawyer and escorted General McCrystal to Pakistan for a shurah.  All of this was captured on video.  We also completed day and night surveillance at the gate.  We completed patrols every day and at the gate we x-rayed trucks and cars for explosive devices.  
As a result of my service, I have been diagnosed with a TBI, PTSD, Vestibular System Damage, vertical compression of my lower back and 80% hearing loss.  My TBI and PTSD are the silent disabilities.  
About PTSD:  
While you can't see this disability, it is very real and is happening more as soldiers return from war.  My advice would be to keep getting the medical assistance you need, don't be afraid to contact people for help.  I hope my new service dog will help me decrease my anxiety and give me the comfort zone and companionship I need.
About Wilco: 
Wilco is a little over 1 year old.  He had been tied to a tree with a chain and abandoned. No one is sure what happened to his tail. SAFFARI rescued him and thought he would be a good fit for the program. Obviously they were right. Wilco is the epitome of the phrase "slow and steady wins the race." He was a little slow to pick up his training, but once he got it boy did he get it. Wilco is a laid back dog who aims to please. He has blossomed into a reliable and gentle service dog.