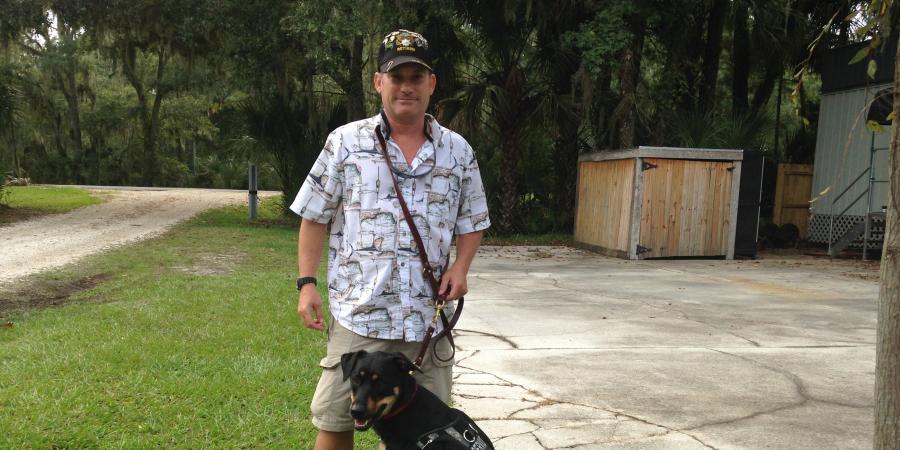 David, U.S. Army & National Guard
October 2013 Class
Age: 53        Years in Service:     31 Years        Rank: O5
Served in: Bosnia, Iraq, Hungary, Djibouti & Seychelles Islands
Warrior's Story:
I was born and raised in Jacksonville, FL as part of a middle class family, with a dad who was the director of Vocational Rehabilitation and a mom who was a school teacher.  I have an older brother and a younger sister, who currently reside in Georgia, and growing up my life was interesting and fun.  We had lots of pets, my favorite was my dog Rocky.  His love was unconditional and I will never forget him. 
My father passed away in 2009 from kidney failure and I miss him more than words can say.  I have three sons, Aaron (26) and twins, Wyatt and Waylan (16).  My mom has also come to live with us, she is 78 years old and still in great health.  My mother and my wife are the best assets in my daily life and bring me constant joy and happiness.
My Career:
I started my military career as an enlisted man in the Florida Army National Guard and worked with the Signal Corps before attending the Florida Officer Candidate School at Camp Blanding where I received my commission for 2nd LT.  My first assignment was with the infantry and I later transferred to Special Forces where I spent seven years of my career.  I completed many missions, as well as numerous deployments.  I spent most of 2004 in Sadr City, Iraq, one of the worst conflict zones at the time and any comrade that has been there will know.  The natives hated the US and tried to hurt us day and night.  It was the most gruesome and hectic time in my entire career.  In 2006, I was promoted to LTC (O5) at Fort Bragg, N.C., where I served the next few years as a mobilizing and demobilizing officer.  My last deployment was a special operations mission in Djibouti and the Seychelles Island where I worked with the Navy on a drone surveillance program.  
About PTSD:  
PTSD to me is a struggle against sanity and peace of mind.  Finding a sense of normalcy and living daily life after accepting the carnage scenes of war can be far beyond words, even for seasoned veterans like myself.  All I can say is learn to talk about it, learn to explore the feelings and digest them which can be difficult when you have been taught to show no emotions or feelings to your troops.  Try to keep busy and do not use negative words to express yourself.  I get extremely frustrated with my seizures that seem to come out of nowhere.  As a result, I can't drive or even do small tasks without supervision.  At one time I was in charge of dozens of soldiers and now I cannot get to the gas station without my wife Rita driving me there.  It was depressing, but I am slowly learning to change and accept myself for who I am now.  It is a limitation, not a handicap.  NEVER GIVE UP.
Looking forward to:  
I love bass fishing and would love to go as much as I can.  I enjoy going to the beach on quiet days as well.  I am hopeful that Kiya, my new service dog, will provide me the security and peace of mind I have been searching for to try new things and become more independent.  It will take time but I will finish the mission and finish it right.  Life beyond the green uniform is waiting and after every rain cloud comes the sunshine.  Army Strong…Now and Forever.  
About Kiya:
Kiya is a 1 year old female mix. We don't really know what she is, probably some mix of lab, doberman, and collie. She was rescued from animal control as a young puppy by The London Sanctuary.  She was adopted twice and both times the families couldn't handle her. She came to us for an evaluation and was perfect. She is a sensitive dog with a lot of energy, but she is smart and engaging and as soon as we showed her how to channel that energy she flew through her training.  She is a special girl and will be a great dog for her warrior.