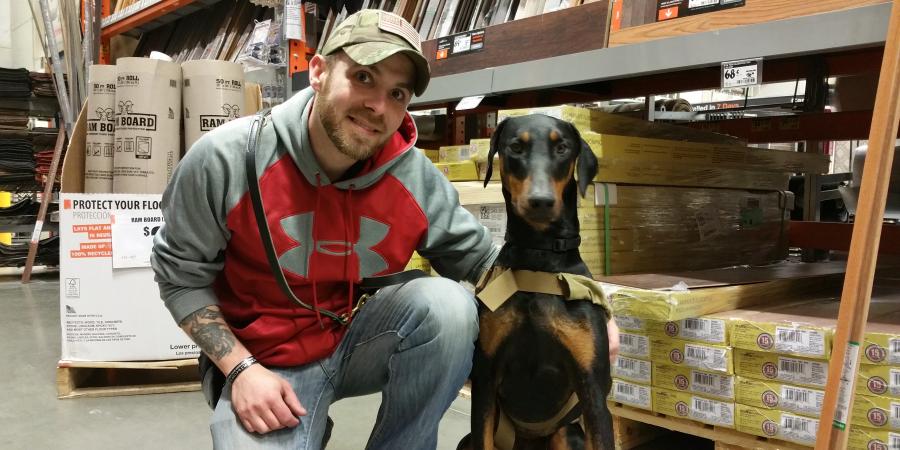 Brandon, United States Army 
Paired with Vince, Adopted from Great Plains SPCA 
Served in: Afghanistan 
I grew up on a large farm in Hiawatha, Kansas. After I graduated high school, I attended a community college, but eventually dropped out. I was getting into my stuff that was pointing me in a direction I knew I didn't want my life go. My dad, a Navy veteran, encouraged me to join the service, and I enlisted in the Army, viewing the opportunity initially as a fresh start, but it eventually developed into something much larger for me. 
I was initially stationed at Fort Benning, and then Ford Hood. Then in July of 2008 I deployed to Afghanistan for a year. During my deployment I lead a sniper team, fortifying positions. I was basically in charge of the health, welfare, safety, discipline, and morale of my team. I loved the brotherhood and camaraderie of the army—the values of honor, respect, putting the needs of others before yourself. 
After I left the army I noticed little signs that something wasn't the same. Anxiety, depression and hypertension became more severe with time, and I used alcohol as a way to help manage these symptoms, which made it worse. In the middle of class one day I had a panic attack for the first time in my life. It wasn't really until 2014 and working with a therapist that I was able to understand that everything I had been experiencing was what I now know to be Post traumatic stress. 
With a better understanding for what I was going through, I began to connect with other programs and veterans who could relate. It was through one of these programs, Team Fidelis, that I met Corey and his service dog Bosco. It was my first event with Team Fidelis and I felt pretty anxious and unsure of what to expect. Bosco, I believe was able to sense my unease and came over to me, got on my lap, and started licking my face to comfort me. Corey told me all about Warriors' Best Friend and recommended that I reach out. 
 I have loved and been attached to past family pets before, but wasn't sure exactly the degree of impact a service dog would make upon my life. Not even through a full week of training with Vince and I can say he's made 10 times the difference upon my life than I could have ever anticipated. Vince is always watching me and able to pick up when I feel anxious and stressed. He'll nudge or lean in to comfort me. Vince gives me responsibility, someone who needs me and that makes me feel important again. He'll give me the push to get out of my apartment to take him for walks and go to the dog park, and hopefully in the process make new acquaintances and not be as isolated as PTSD and forced me to become. He's my best friend, which makes Warriors' Best Friend the perfect namesake I guess.