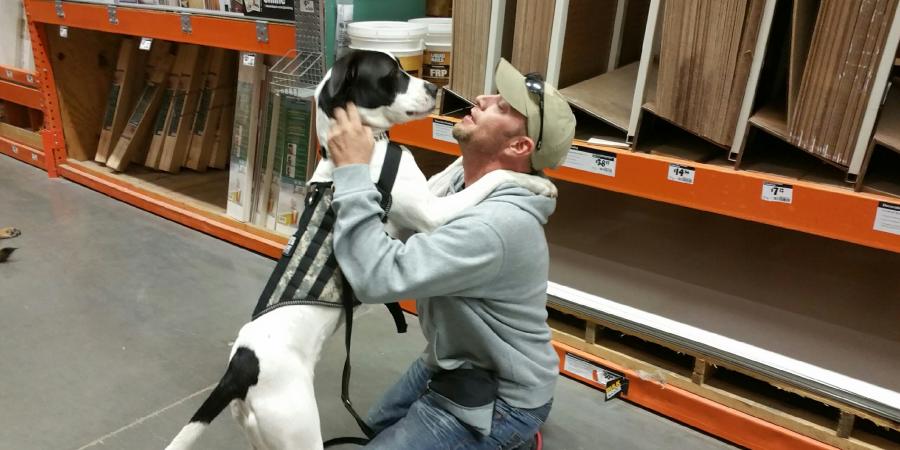 ALAN, United States Army 
PAIRED WITH: Max, Adopted from Great Plains SPCA
SERVED IN: Iraq and Afghanistan
Following high school, I received a scholarship to play basketball at K-State, but soon found out that I was expecting a daughter. To provide for my family I instead joined the Army. What initially was a decision to help create financial stability for a family grew into a career that I loved.  I began my career in the army as a scout completing reconnaissance missions and then very quickly went to school to become a Sniper and joined a special missions unit. 
In 2009 I was distinguished as the most deployed soldier in the army. In total I was deployed 3,148 days total, or roughly 105 months, time of which was divided between Iraq, Kuwait, and Afghanistan. I've lost track of exactly how many times I was deployed—I would return to the states 1-3 months at a time to train and attend a school and would then deploy. As one can imagine, this was incredibly difficult for my family—more difficult for my wife and daughter I believe than for me. With the exception of one full year break in 2006, I spent less than 2 months out of each year with my wife and daughter.
I first noticed shifts in my mood and behaviors in 2001, which worsened after my deployment to Baghdad in 2005. When I was deployed, I had one focus—to make sure that my fellow soldiers and I were safe. When I was home I was hyper-vigilant, and avoided large crowds.  Among civilians I would become easily agitated especially by issues that were petty. My outlook on life had became entirely re-shaped by my experiences in the Army where having running water and a bathroom were not a given and where the most important matters of life became so clear. 
In 2013 I retired from the Army and by 2014 these symptoms had become extreme to the point that I began to have suicidal thoughts. I believed a weakness in taking medication or seeking help and tried to cope with these issues on my own. I reached a point where I realized I had to do something and I sought out a psychiatrist. My doctor and I discussed several options. I did a lot of research and I believed that the best answer for me came in the form of a service dog. I applied to 11 different organizations with no response until I came across Warriors' Best Friend who has helped me find the best dog for my family and I—Max. 
Max provides me with someone to focus upon and take care of. I wouldn't call it a distraction—more like an attraction. When I'm stressed or anxious I turn my attention to Max and petting and rubbing his ears helps to release those anxieties. One of the things I love most about Max is his personality. When the vest comes off, he's just a regular dog with a lot of energy and happiness that is contagious. My family is really excited to welcome Max home. My daughter particularly is really excited for what this means for our relationship, to be able to spend more time together the way that we used to.