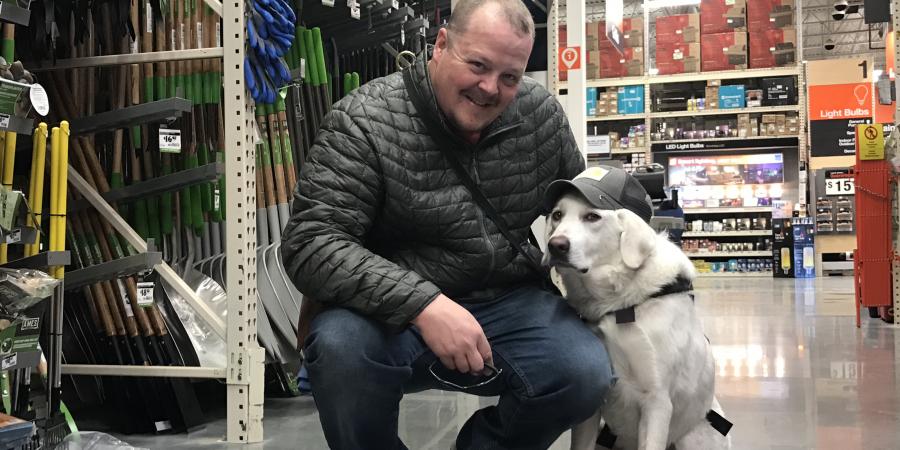 Shaun, United States Army  
Paired with: Winter, adopted from Great Plains SPCA 
Served in: Iraq, Kuwait, Syria and Central/South America  
 
Growing up, I was part of a military family with my dad building a career in the Navy and my brother becoming an A-10 pilot in the Air Force. I joined the Army Reserves in 1999 and trained as a surgical technologist and first assistant. I am celebrating my 20th year with the Army this year as a First-Class Sergeant based out of Independence, Missouri. 
As a civilian, I work as a first assistant team leader for surgeons and hospitals in the Kansas City area. I take my combat experience, where I dealt with total devastation of bodies or multiple traumas on a single patient, and use it in the civilian world to benefit patients and my team.  
 
I deployed four times totaling 42 months of deployment to places such as Kuwait, Iraq, Syria and Central and South America. I had a different role each time I deployed, but with my last deployment to Syria in 2016-17, I was part of a damage control surgical team. 
The struggle with deployments—especially back to back deployments—wears on you pretty hard as well as your family. I was married for nine years. I got divorced in 2012 and remarried in 2013. I have four children. 
PTSD is probably the hardest thing I have ever had to deal with in my life. The depression that is associated with it and not knowing how to solve what you are feeling is tough. Not knowing how to articulate what you are feeling especially to a spouse or to your children is really hard.  
 
When I started working through my PTSD, I explored everything possible through the VA. Ultimately, it was a private, civilian counselor I found on my own who helped the most. I am doing EMDR treatment with him, and I am seeing good results from it.  
 
My VA psychiatric nurse, who had experience with Warriors' Best Friend, suggested I should check out the service dog program. She said, "Just knowing the dog is focused 100 percent on you, and you will feel supported." That was the statement that drove it home for me. Also, I randomly met another veteran, Corey, with a Warriors' Best Friend service dog, Bosco, at physical therapy appointment one day at the VA. He said Bosco was the best thing that ever happened to him.  
 
Already, Winter is a perfect fit. I enjoy her companionship. She is very, very smart. She almost knows what I am going to do before I do it. To get to that point in five days of training is pretty cool. Somebody can say they understand you or know what you are going through, but a dog does it in a completely different way. They look at you like nothing is wrong.  
 
I am looking forward to getting out more. The response I get when people see her is such a positive one. They look at her, and they say "thank you for your service," to me. I can turn the conversation to being about her and what she's doing instead of what I've been through. But the thing I am most looking forward to is being the dad I want to be again.