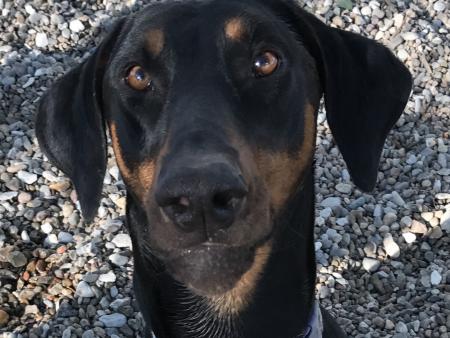 Meet Vince! He is a spunky 2-year-old Doberman Pinscher/ Mix.  Vince was only in the shelter for a few days before our trainer caught of glimpse of him.  With his sweet demeanor and ability to focus, she knew he would make for a great addition to our program!  Since arriving at Warriors' Best Friend, Vince has impressed us with ability to pick up his training very quickly, learning a new command every day!  When not training, Vince's favorite thing to do is to play with his girlfriend Fiona! They have been inseparable since day one, seeing as they were adopted one day after the other. 
Dog Updates
Aside from being exceptionally smart, Vince is also a very loving dog. Here he takes a moment to share some love with his trainer.
Read More >>
We are so proud to have Vince on our team. He is so wonderful to work with and always ready to go with a great attitude.
Read More >>
Vince is such a remarkably smart dog. He is very quick to learn new commands and just a real joy to be around.
Read More >>