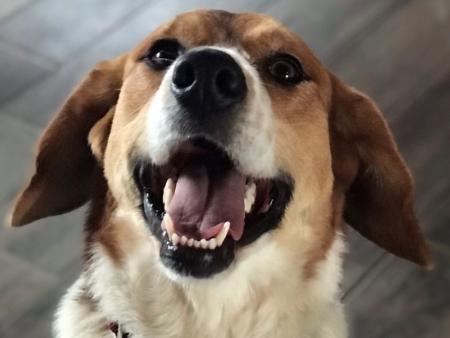 Say hello to Cooper or as we like to call him "Mr. Cooper Dooper!" He is a three year old Beagle/Aussie mix adopted through Great Plains SPCA.  What made Cooper stand out from the rest of the dogs at the shelter you ask? When our trainer initially walked by his kennel he was very relaxed and calm with his approach to the kennel door. Cooper pressed his head up against the door begging for attention.  Our trainer couldn't help but take him out for a one-on-one evaluation. Once in the visiting room, Cooper instantly walked up to the trainer and placed his head in her lap. Though we do not expect the dog to know any commands prior to adoption, our trainer does like to see how easily and willingly the dog is able to learn new commands and if they are treat motivated.  Cooper continued to check every box we require for our dogs in training including being dog and people friendly. 
Cooper is now in training to become a facility dog!  He will go on to serve high needs students at a school.
Dog Updates
Cooper loves to go for rides in the car because he loves going places! Here he takes a ride with his buddy Princess.
Read More >>