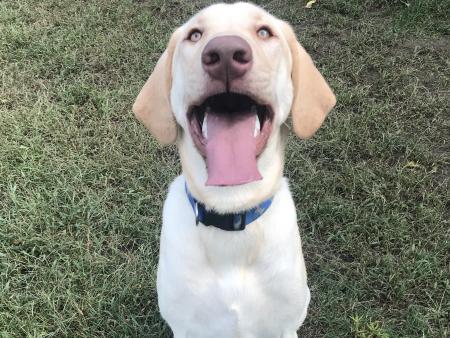 Bentley is a spunky one year old labrador/retreiver mix! He was rescued from Kansas City Kansas Animal Services and adopted through the Humane Society of Greater Kansas City. Since joining the Warriors' Best Friend family he has quickly wiggled his way into everyones hearts! Bentley has love for all living creatures big and small but his best friend is Cash!
Bentley is full of personality! When not training you will probably find him with a bowl in his mouth.  He loves to find things and carry them around but will kindly give them to the trainer when asked!  Bentley will do just about anyting for a treat!
Dog Updates
Here is a throw back photo of Bentley that is too cute not to share. Sometimes during training sessions, the dogs in training are allowed to pick out a special treat. Bentley said, "I'll take these please!"
Read More >>