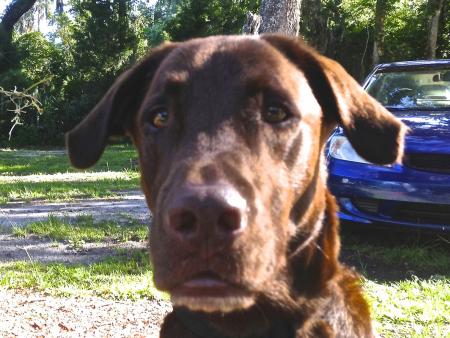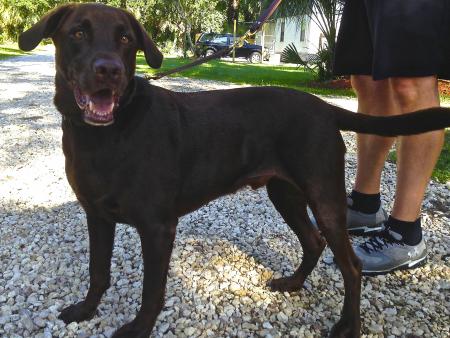 Moe is a 2 1/2 year old male chocolate lab.  Moe came from Florida Lab Rescue.  He was surrendered by his owner because he had too much energy for them.  He came to training and slowly but surely learned to calm down and do his work.  Moe is a fun, happy go lucky dog that's always up for a new challenge.  He is a great match for his warrior and loves not being left behind.
Dog Updates
Moe works on the cover command and is tested to see how he reacts to tight spaces. Moe is a wiggle worm so every position his dad puts him he hops into. Moe wants nothing more than to please his dad and get love in return.
Read More >>
Ryan and Moe visit the St Johns Town Center where Moe learns the command down stay. Ryan left Moe in a down stay and walked a comfortable distance from him to see if Moe would break his down. Moe did great and Ryan was one proud dad.
Read More >>
Ryan and Moe take a trip to the sports store where Moe was put the hardest test; leaving the ball alone while they bounce it in front of him in an attempt to get him to go after the ball. Moe did awesome! He really wanted that ball but never left his spot next to his dad.
Read More >>