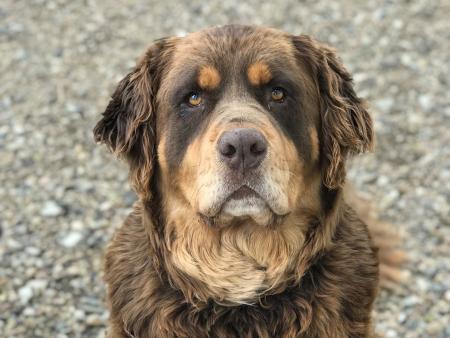 Breed: Newfoundland/Rottweiler Mix
Facility Placement: USO Kansas Fort Riley Center
We welcome this handsome teddy bear, Mr. Farley, to our Facility Dog Training Program!
Farley is a 3 year old Newfoundland/ Rottweiler mix rescued through the Indpendence Animal Shelter. Farley was brought to the shelter as a lost pet but his stay did not last long. The day his stray hold was lifted we immediatley snatched this sweet boy up!
Farley is wonderful with all living things big and small! We say "Farley knows no stranger!" He makes friends with everyone he meets and craves a humans constant affection. Though Farley enjoys playing with his canine friends, he prefers to spend most of his time snuggled up next to you. 
We are confident Farley is going to excel in the training program!
Dog Updates
Farley makes friends easily. He's just one lovable big guy who loves to hang out with anyone who's willing.
Read More >>