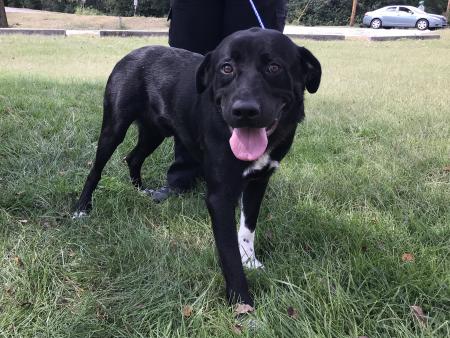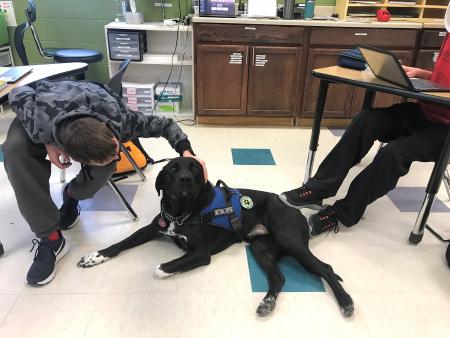 Breed: Lab/mix
Facility Placement: Liberty High School
Serving: Counseling Department
Meet our sweet Bear!  He is a two year old Lab/mix.  We like to refer to Bear as an "All American" dog because noone can pin point exactly what breeds he is crossed with!  Bear was rescued from Kansas City Kansas Animal Services and adopted through the Humane Society of Greater Kansas City.
When the trainer saw Bear at the shelter she was instantly drawn to him.  Bear was being such a good boy, calmly approaching the gate with his tail wagging!  After taking him outside on leash an spending some alone time with him she knew he would be a great fit for our program.  Bear's only interest was recieving affection from the trainer! He leaned into her and sat nicely for petting.  
Since coming to WBF Bear has contiuned to win over the trainer with his kind heart and gentle nature.  Bear is bascially a 91 lb teddy bear..hince how he came to receive his name! There is no question he is going to make some lucky person very happy! 
Post Placement Update
Since completion of the Operation Schoolhouse program, Bear has moved on to serve the students of Liberty High School alongside his pal Bentley! Bear spends most of his time with his handler, Kris Boyle, within the counseling department. He provides emotional support for students with anxiety, depression, experiencing or having experienced trauma and students who are in crisis. Kris says "Bear offers comfort, support and love to staff and students on a daily basis. The impact has been remarkable. Both students and staff look forward to coming to school to spend time with Bear."  Both Bear and Bentley have brought so much joy to everyone at LHS and will continue to do so for future students to come!