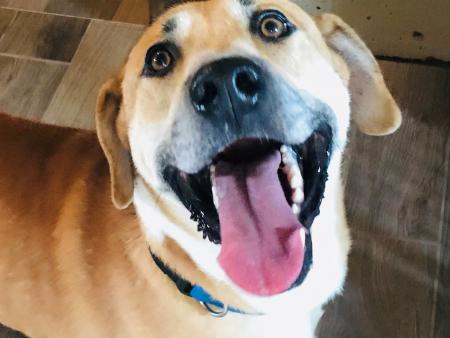 Introducing Hank! He is a three year old lab/basset hound mix rescued from Great Plains SPCA. Yes, you hear us right, LAB/BASSET HOUND MIX! Hank has the body of a basset hound and the ears and hair of a Labrador. He is 58lbs of pure love! 
It only took twenty minutes with Hank at the shelter to realize that he would make a great addition to our program.  He was very attentive and craved the trainer's approval and affection. Hank is the most sweet natured pup!  Rarely will you catch him not smiling. Hank is a quick learner and enjoys his time out with the trainer working, but his favorite part of WBF so far has been all the yummy treats! Hank will do just about anything for a snack which will make his training a breeze! 
Continue to check back on our social media platforms, Facebook and Instagram, as well as the website to find updates on Hanks training progress!